In 2012, nearly 247 million mobile phone users around the world downloaded a health app, according to Research2Guidance, a global market research firm. And a recent count of the iTunes app store showed at least 13,000 health and wellness apps, not including the thousands of others available for Android users.
How exactly are physicians supposed to navigate through the clutter to accurately and safely recommend, or even prescribe, one of these apps to their patients?
First, let's dissect the difference between a health app and a wellness app. While similar, they have very significant distinctions.
A health app is categorized by the FDA as mobile software that diagnoses, tracks, or treats disease. Eventually, the FDA hopes to monitor and regulate all health apps.
A wellness app is a mobile software that enhances or tracks the overall health of the user. These programs can address physical, mental or emotional, intellectual, social, environmental, or even spiritual factors of health. Many commonly used wellness apps include calorie counters or workout aides.
In some instances, the two can cross over. For example, a calorie counter that tells the user when they've consumed their recommended daily intake can be used to help treat obesity. In this case, the cross-over is a positive. But, a person skipping his or her yearly checkup because a fitness app tells them they're completely healthy demonstrates a potentially harmful application of the tool.
Now, let's take a look at some of the most recommended medical apps on the market.
Health Apps for Patients
WebMD
One of the most trusted brands in health information, the WebMD app provides users with useful information on symptoms, conditions, drugs and treatments, first aid essentials, and local health listings. The pill identification tool classifies prescription and OTC medicines by shape, color and imprint.
Price: Free
Compatibility: Android, iPhone
iTriage
New in town? iTriage by Healthagen can help you find the nearest hospital or urgent care center. Furthermore, this app provides an estimated waiting time in each emergency room.
Price: Free
Compatibility: Android, iPhone
Pill Reminder
Pill Reminder by Drugs.com helps patients keep a complete list off all their meds. It can also send your mobile phone reminders when it's time to take your scripts. Add personal notes or get easy access to important information about your medicine such as side effects, dosage and safe use during pregnancy.
Price: $0.99
Compatibility: iPhone, coming soon to Android
AsthmaMD
Allows users to quickly log their asthma activity, medications and causes of asthma in diary form. Users can share this information with their physicians to include in medical records. AsthmaMD is providing invaluable data to researchers on the external factors contributing to asthma attacks.
Price: Free
Compatibility: iPhone
Gazelle
Created by Quest Diagnostics, Gazelle allows users to schedule lab tests or view results right on their mobile phone. Lab reports include a brief explanation of normal and abnormal values to help patients better understand results. This app can also track medication, share health data and store emergency medical information.
Price: Free
Compatibility: Android, Blackberry, iPhone
Wellness Apps for Patients
Calorie Counters
Many apps on the market can help measure how many calories you consume each day. They all require dedication, so you have to enter every morsel of food you take in. The most popular include:
Calorie Counter by FatSecret. Price: Free. Compatibility: Android, BlackBerry, iPhone
MyFitnessPal. Price Free. Compatibility: Blackberry, Android, iPhone, Windows
MyPlate by Livestrong.com. Price: $2.99. Compatibility: BlackBerry, iPhone, Windows
Fitness Aides
Ever wanted a workout partner who can track your sets, reps, and heart rate? With the help of fitness apps, your mobile phone becomes your spotter.
Fitness Buddy: The ultimate fitness journal, boasting more than 1,000 exercises, tailored workouts, and animations. Price: $0.99. Compatibility: Android, iPhone
Endomondo Sports Tracker: Integrates the GPS on your phone with your physical activity to track movements. Specializing in running and cycling, this app measures distance traveled and calories burned in a workout. Price: $3.99 Compatibility: Android, iPhone, Blackberry.

Sleep as Android
This app is an alarm clock with an integrated sleep cycle tracker for waking you up gently. Place your phone under your pillow while you sleep, and this app will track your sleep phases and choose the ideal moment to wake you up.
Price: Free
Compatibility: Android
Fig
This app doesn't just promote healthy eating and exercise but tracks your wellness as a holistic concept, which includes sufficient sleep and healthy human interactions. This app will remind you to wake up 15 minutes early for meditation time, call your parents regularly and take short breaks at work.
Price: Free
Compatibility: Android, iPhone
What apps do you use in your daily practice? Stay tuned for our second installment of this series where we'll breakdown the best apps for medical professionals.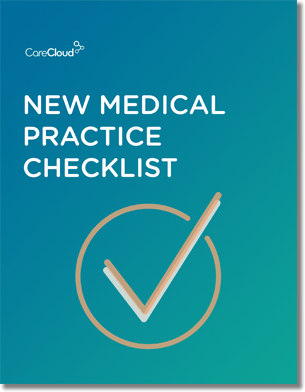 Do you know what you need when setting up a new medical practice?
Get our New Medical Practice Checklist
Download Now!