CareCloud for Ophthalmology helps increase efficiency at the point of 
care, while streamlining workflow across your practice. With CareCloud, you can boost productivity, increase profitability, and improve outcomes.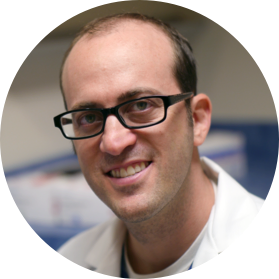 "With CareCloud, we're able to leverage their trusted practice management software and
cloud-based platform to create workflows in their EHR that meet the specific needs of an ophthalmologist."

– Dr. Reid Wainess, Acuity Eye Specialists
IMPROVE EFFICIENCY & STREAMLINE 
WORKFLOW ACROSS YOUR PRACTICE.
CareCloud's ophthalmology-focused EHR & PM helps facilitate the needs of your practice.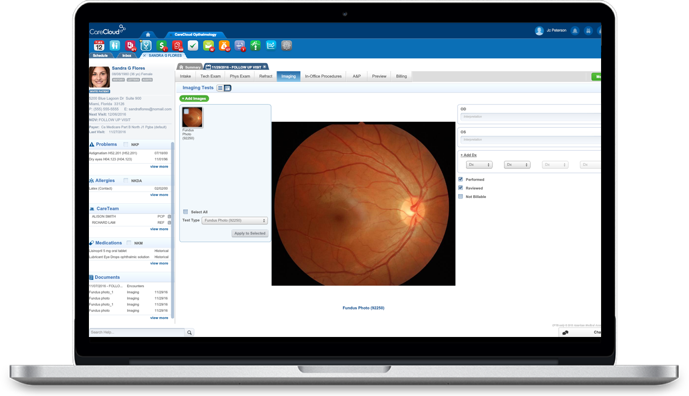 Designed by Ophthalmologists
From general ophthalmology to retina and cornea specialists, CareCloud for Ophthalmology delivers a user experience that's intuitive so you can practice medicine your way.

Optimize
Workflow
CareCloud's templates and integrated order sets are customized for ophthalmologists. CareCloud's intuitive workflow-driven charting capabilities, ophthalmology specific order-sets and procedure-sets enables you to save time and leverage best practices.

Improve
outcomes
Community, our patient portal, allows your patients to engage in their own care. Plus, clinical-decision support tools provide real-time intelligence at the point of care.
Work Smarter Not Harder With CareCloud's Practice Management Software.
CareCloud's modern, intuitive practice management software simplifies your administrative and financial workflow – from scheduling and revenue management to reporting and analytics – so you can enhance efficiency and optimize decision-making.

Enhance
efficiency
User-friendly tools, built-in automation, and the ability to multi-task without losing work allow you to complete daily tasks in record time.

Increase
revenue
Robust billing capabilities–from automated insurance verification to real-time billing error alerts–help you generate cleaner claims and capture more revenue.

Informed Decision-Making
Integrated dashboards and robust analytics make it easy to measure your business performance, to spot trends and to make data-driven decisions for improvement.

You focus on your patients.
We focus on your payments.
CareCloud's complete revenue cycle solution combines the services of our 
expert back-office RCM team with our modern software to help you boost profitability, eliminate administrative burden and adapt better to industry change.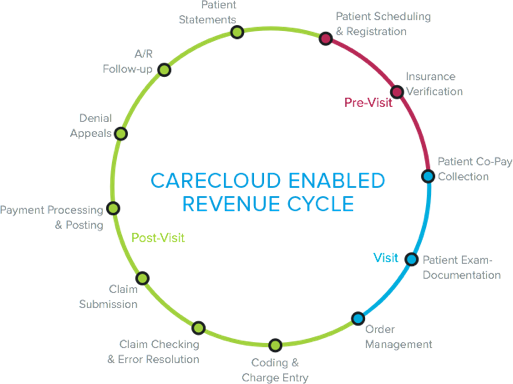 BOOST
PRACTICE
PROFITABILITY
Powerful billing software and seasoned RCM experts help you optimize your revenue cycle from start to finish.

ELIMINATE
ADMINISTRATIVE
BURDENS
Our team handles your revenue cycle heavy lifting to ensure you get paid properly and promptly.

STAY AHEAD OF INDUSTRY CHANGE
Your designated client manager provides insights and guidance to ease the external pressure on your practice, such as the shift to value-based care or changes to reimbursement models.
Patient engagement and social tools for secure communication and collaboration.
Our suite of patient engagement and social tools give you, your colleagues, and your patients a secure way to communicate and collaborate with one another, improving productivity while also strengthening patient engagement and opening new revenue streams.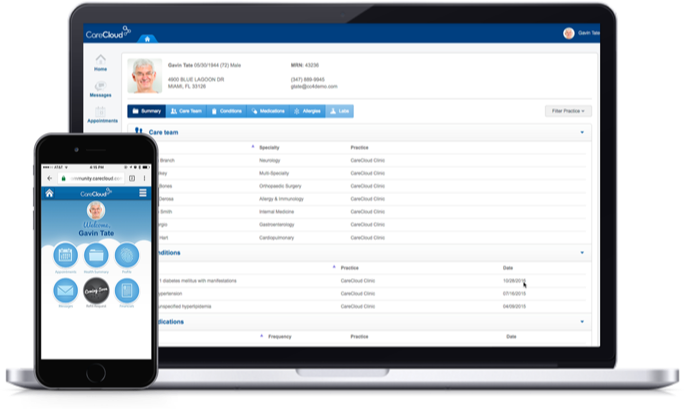 STRENGTHEN PATIENT ENGAGEMENT
Our patient portal gives patients access to their clinical information–and a secure way to connect with you–so they are more informed and engaged.

BOOST
PRODUCTIVITY
Allowing patients to request appointments, view their records, and pay bills online reduces work for your practice. Our built-in chat feature drives even more efficiency by allowing your practice to collaborate in real-time.

Increase patient
acquisition
Practice website integration and online patient registration, make it easier for you to attract new patients to your practice.
Business Insight with Advanced Analytics
CareCloud Advanced Analytics gives you deeper visibility into your organization than ever before, so you can closely monitor performance and make data-driven decisions to improve it. With hundreds of insightful metrics at your fingertips —financial, operational, and clinical—and an intuitive, drag-and-drop tool for customized analyses, you'll get answers to your questions fast — so you can act fast.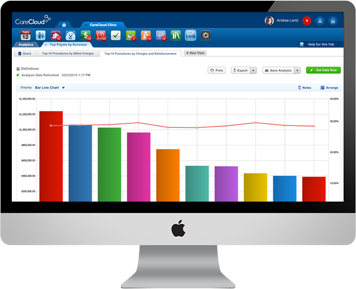 The American Academy of Ophthalmology is the world's largest association of eye physicians and surgeons. A global community of 32,000 medical doctors, they protect sight and empower lives by setting the standards for ophthalmic education and advocating for our patients and the public. They innovate to advance the Ophthalmology profession and to ensure the delivery of the highest-quality eye care.
The American Academy of Ophthalmology IRIS® Registry (Intelligent Research in Sight) is the nation's first comprehensive eye disease clinical registry. The Academy developed it as part of the profession's shared goal of continual improvement in the delivery of eye care.
The IRIS Registry is the only specialty society-sponsored eye care specialized registry. Active engagement with the IRIS Registry enables ophthalmologists to satisfy meaningful use Public Health Objective 10, Measure Option 3, Specialized Registry Reporting. Because the IRIS Registry is the only eye care specialized registry, it is the only specialized registry that the Academy recommends to its members. All ophthalmologist members of the Academy have access to the registry as a free member benefit.
Ophthalmologists in the United States who are members of the Academy, and their staff, may participate in the IRIS Registry to improve their patient care, enable clinical discovery and simplify federal quality reporting.
The IRIS Registry has been successfully integrated with CareCloud for Ophthalmology.