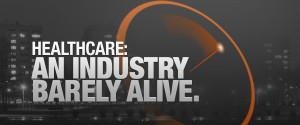 Ladies and gentlemen, we can rebuild it. We have the technology. We have the capability to make the world's first digital healthcare ecosystem. CareCloud will be that ecosystem. Better than it was before. Better, stronger, faster…
By the year 2025, healthcare spending in the US is expected to reach $6 trillion. At the same time, 25% of Americans are expected to have two or more chronic illnesses, and the United States will be struggling with a nationwide shortage of at least 100,000 doctors. Unless we act now, the consequences will be dire indeed.
An Industry Barely Alive
Much like Steve Austin after his devastating crash, the healthcare industry is in dire need of some serious augmentation, because the problems of the future are caused by key hurdles affecting healthcare costs today:
55% of total spending is wasted on inefficient or redundant processes
25% of physician revenue is never collected
The modern medical practice is inefficient, wasteful, and underpowered – the lack of proper cost-controls are making it more and more difficult for providers to administer care without drowning in a sea of paperwork. The entire way healthcare is managed requires a reboot, and that's where we come in. With the addition of some high-tech bionic parts, the industry as a whole will be much more resilient, ready to withstand the tumultuous and uncertain future that lies ahead…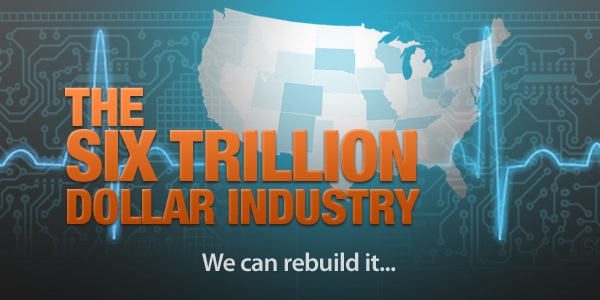 We have the technology
The technology needed to rescue our crumbling healthcare system is being developed around the world by companies just like CareCloud. According to studies conducted by Google and Manhattan Research, physicians are ready and willing to adopt these solutions:
99% of physician offices have access to broadband Internet
92% of physicians use the web to aid them in their practice
71% of physicians are interested in or already use physician social networks
Better, Stronger, Faster
With the right technology, we can not only save the industry from a bloated financial future, but also improve the way physicians provide care, reducing the occurrence of clinical mistakes and minimizing administrative chores in the process:
90% of health leaders say Healthcare IT makes physicians more efficient
Hosted IT solutions cost 1/3 to 1/2 as much as on-site solutions
Integrated clinical decision-support tools can help save up to 39,000 lives a year
Ten of the 20 fastest growing occupations are healthcare related
And of course, as we all know:
$44,000 in incentives per physician for adopting an EMR system by 2011
Bionic parts
So what improvements are necessary to build the bionic industry? These enhancements should seem rather obvious, partly because they are already ubiquitous in other industries, and partly because they will truly serve to fortify physicians and their practices in the face of diminishing collections and floundering profits.
Social networking platform
Payer Rules engine
Workflow engine
Document management system
Business intelligence tools
Analytics
The Bionic Industry
In our vision for the new era of practice management, physicians can stay connected to their practice at all times with various portable devices. This will help them collect more, improve practice productivity and enhance decision-making. Practice Management Systems will become comprehensive marketing tools for medical practices thanks to social networking functionality, which also lets patients self-serve online: they will pay balances, schedule appointments, fill out forms, and access their personal health information from the comfort of home, reducing costs and easing the practice workflow by eliminating unnecessary visits and reducing the time spent in the waiting room.
The new era of medical practice management is on the horizon…
Are you ready?
Bonus: Nostalgia trip!