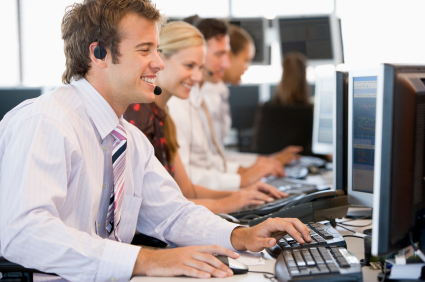 When you hear the term 'outsourcing' used in conjunction with medical practices, what comes to mind? Probably billing, and there are good reasons why. Many providers have found outsourced medical billing to be an effective way of streamlining operations and securing better reimbursements.
But billing shouldn't be the only term linked to outsourcing. There are other common tasks providers can outsource that will help save money, eliminate tedious administrative duties or both.
Phone Obligations
On those stressful days when appointments are running 30 minutes behind and patients are getting frustrated, the last thing your staff needs to be doing is handling phone calls. Phone duties divert attention away from the patients who are actually in the office awaiting treatment.
Those burdensome phone calls can be outsourced to a medical call center. Patient calls are directed to an operator who screens them for importance. If the matter isn't urgent, a message is taken and forwarded to your practice to be reviewed later.
Medical call centers are also useful for handling after hours calls. Choosing a medical call center with 24-hour service means patients will always speak to a live person. The operator will forward messages to the right person, so no employee has to waste time going through messages at the beginning of the day.
Tech Support
With advanced technologies continuously becoming a more integral part of running a medical practice, some practices – particularly larger ones – feel that keeping an IT person on staff is a worthwhile investment. And while it's nice to have someone there when you need it, outsourcing your IT needs can be a smart move.
The average salary for tech support specialists ranges from $51,287 in the Mid-Atlantic region to $58,726 on the Pacific Coast according to Computer World. IT companies often bill by issue, which can save you money on payroll.
Availability should be a concern, though. Make sure to use a company that has the resources to dispatch an IT person when you call. Your practice shouldn't have to wait hours before receiving the help you need.
Employee Hiring
The hiring process can be more cumbersome than it appears at first glance. Depending on the position and the marketplace, you may receive over a hundred applications for a single position. All of these resumes must be screened, and then calls made to set up interviews. On top of that, you'll have to run background checks on any new hires.
Medical staffing agencies perform many of these tasks for your practice. They identify quality candidates for the position and often run background checks on them. All that's left for your practice to do is interview what should be highly qualified candidates and decide the newest employee will be.
Depending on the agency, they can help you hire candidates ranging from medical coders all the way up to physician's assistants.
[do action="separators"/]
As you can see, outsourcing can benefit your practice in a variety of ways. Although our society harps on the benefits of doing things yourself, sometimes it's better to let things go. Doing so can help your practice improve financial and operational performance.
Want more tips on improving practice performance? Then you'll want to check out the 5 Must-Track Metrics for Practice Profitability whitepaper.