Ready for the New Year? The Power Your Practice staff sure is. With updates on Meaningful Use, the ICD-10 transition deadline, and the ripple effects of the Affordable Care Act on the horizon, we're surely in for a show in 2014.
To kick it all off, we first offered an update on our "52 Things Healthcare Learned in 2013" series, which you can read here. Today we're looking ahead. See what we think you should give a little extra attention to this year to ensure it's more successful than the last.
Urge patients to familiarize themselves with and safeguard their personal health information. While EHRs are becoming more interoperable, it's possible there is a disconnect from the records of several other doctors your patients have visited. Urge your patients to create a summary of their own medical records to bring with them to doctor visits, including personal, family, and medication history.
Work hard towards Meaningful Use Stage 2 attestation. If you're eligible for the Medicare EHR incentive program and you attested for Meaningful Use Stage 1 in either 2011 or 2012, you're likely attesting next year. Beware of clinical summaries, CPOE, and patient education core measures – they're tricking a number of eligible providers already.
Consider an early ICD-10 transition. While double coding and staff resistance may present an issue here and there, an early ICD-10 transition will help your practice work out some kinks, identify any necessary changes in workflow and make for an overall more effective transition.
For more details, check this PYP article out.
Replace outdated health IT systems. This should be obvious by now. According to the Practice Profitability Index, 41% of physicians are planning operational improvements at their practices. Replacing outdated systems is at the top of their lists.
Get ready for the ACA's patient influx. Hearing that 32 million patients will enter the healthcare system in 2014 due to the Affordable Care Act is a little terrifying, especially when one takes into account the 48% of physicians who lack the resources to accommodate them.
Will you have to add another physician at your practice or hire a physician assistant? Perhaps you'll embrace new technologies. At any rate, check out this useful article to quell some of your pre-New Year anxieties.
Be sure to stay tuned for our "Practicing Medicine in 2014: What's Out and What's Here to Stay" Slideshare presentation, out later this week. Sign up for our newsletter and be the first to check it out!
---
The material and information contained on this website is for general information purposes only. You should not solely rely upon the material or information on the website as a basis for making any business, legal, medical, or any other decisions. While we endeavor to keep all information up-to-date and correct, all information in this site is provided "as is," and CareCloud Corporation and MTBC Inc. make no representations or warranties of any kind, express or implied, about the completeness, accuracy, reliability, suitability, or availability with respect to the information contained on the website for any purpose. Any reliance you place on such material is therefore strictly at your own risk.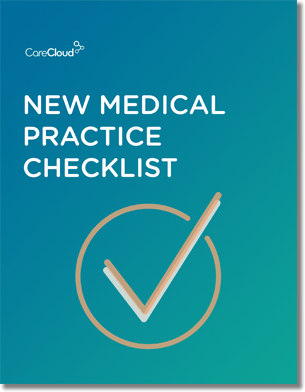 Do you know what you need when setting up a new medical practice?
Get our New Medical Practice Checklist
Download Now!