Healthcare professionals are integrating the latest technologies to offer their patients ease of access to healthcare through secure digitization. The tools for the journey to the digitization of the healthcare industry empower patients by giving them a more significant role in their care journey. Digital alerts help them view the latest medical data via a secure email or by signing in at a patient portal. This way, they will never miss an update and can plan their medical care accordingly.  
What are the Benefits of Accessing Medical Records Digitally?
There are a lot of benefits of accessing healthcare records digitally, and some of them are: 
Remembering Care Plans

 

Easy and Fast Access to Test Results

 

Can Easily share Medical Information as per Choice

 
One of the critical factors in the healthcare industry is to increase patient satisfaction and enhance the patient experience. The tools like patient portals and digitalization help providers achieve this goal quickly. 
Contactless Experience
Contactless care is an excellent solution designed to enhance health outcomes by providing a safe, in-time, and constant healthcare facility. People living in remote locations can now have access to top-notch services without any hassle. They can easily connect with their providers in a more convenient and personal way. Patients are the focal point in contactless care because this solution provides a higher level of engagement and satisfaction to drive improved outcomes. This tool is mobile-ready and can easily be accessed from the web, assisting patients in seamless check-ins and paying for their visit before coming into your practice, resulting in delivering patient experience excellence. 
Contactless Check-In
The best thing about contactless check-in is allowing medical professionals to offer healthcare services without physical contact. This way, the patients and staff will feel confident that they are in a safe environment. A report suggests that medical practices emphasizing safety and quality measures tend to have excellent patient experience in healthcare scores. In this way, they enjoy improved financial outcomes. Using contactless check-in tools, patients can quickly check in from the place of their choice without any hassle. 
Telehealth Equipped Solutions
Integrating telehealth-equipped solutions allows the practices to handle their patients' initial forms digitally efficiently. Telehealth adoption surged during the first quarter of 2020 because of the COVID-19 pandemic. The central aspect of the rise in the adoption of telehealth was that it helps prevent unnecessary physical contact and human intervention. It was pretty beneficial for healthcare organizations because it helps them by streamlining workflows and saves money by unclogging waiting rooms. Research published in Harvard Business Review shows that virtual care platforms have the potential to save $10B annually. A frictionless virtual experience is guaranteed when practices incorporate a high-end telehealth solution. Moreover, it also eases the workflow by empowering patients to book a telehealth appointment and reschedule it as per their availability. 
Patient Communications
There are three core goals of patient communications. 
Developing a Good Relationship

 

Exchange of Information

 

Keep Patients in the Loop

 
In stressful conditions, clear and accurate communication between patients and providers is mandatory. Lack of communication will lead to severe consequences. Improved patient-provider communication can minimize a lot of medical errors. Incorporating the latest technology will streamline workflows and have a positive impact on the efficiency of the practice. With the help of the latest technologies, providers can easily connect with patients and send critical information in time. 
Safely Collect Payments
Healthcare organizations are employing solutions to safely collect payments to avoid the physical exchange of cash or other related payment methods. Collecting payments safely is one of the most vital aspects of handling patient forms digitally. So, organizations need to create safe transactions for all so there will be no issues. 
Incorporating the Right Tools
When medical practices integrate the right tools, it eliminates inefficiencies and makes every interaction easier. With the online pre-registration tool, organizations can allow patients to fill out forms ahead of time. This way, they can quickly request and reschedule appointments without wasting time. A paperless experience will help patients review and update all the related information anytime, anywhere. But all these tools need to be obtained from a reputable vendor so that the practices will have the best experience. 
Summary
In this article, we have briefly discussed how to handle patients' initial forms digitally. We have provided a comprehensive view of all the significant factors that have a direct impact on patient experience management such as contactless experience, contactless check-in, telehealth solution, patient communication, safely collected payments, and much more. But to get the most out of it, organizations must implement the right patient experience management software to provide the right results like incorporating an effective practice management tool and shifting to Electronic Health Records. We have also discussed the top ways to improve the patient experience when faced with appointment overflow.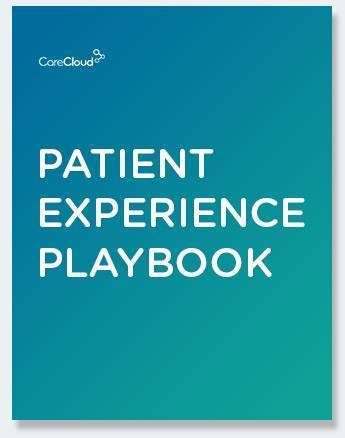 Download the Patient Experience Playbook
Insights into every aspect of the patient journey
Download Now!