The healthcare industry has seen massive growth in the adoption of digital health technologies such as electronic health records (EHR) and revenue cycle management (RCM) software. Providers often see them as a necessary evil, partly due to the lack of awareness of their potential. EHR systems provide healthcare providers with tools to improve workflow and store patient data, while RCM tools streamline all billing and payment processes. Are EHR and RCM a burden or a blessing? And what's next for these two in the future of healthcare?  
Our CEO, A. Hadi Chaudhry, on the latest podcast episode of Definitively Speaking, explores the past, present, and future of EHR and RCM in the healthcare industry.  

In this episode, he talks about how these technologies have evolved, their current stature, and how they will shape the future of the healthcare industry. Whether you are a provider, payer, or patient, this podcast episode is an insightful and informative look at the impact of EHR and RCM on the healthcare industry.    
EHR and RCM: How it Started
Electronic health records and revenue cycle management have significantly transformed in the last two decades. It started in 2004, with President George W. Bush's initiative to digitize health records in the US within ten years. However, it was not until President Obama took office in 2009 that this became a government mandate. Obama's administration set up organizations to define the standards for an efficient EHR system. EHRs used to be a tool for storing patient data, but they have evolved into comprehensive systems that could manage patient care from start to finish.  
Similarly, revenue cycle management (RCM) software has seen major improvements. Two decades ago, medical billing was primarily paper-based and traditional. Today's RCM technology features powerful tools that streamline the entire revenue cycle, from patient registration to payment collection. RCM has become an essential part of healthcare operations, helping providers optimize revenue while reducing administrative costs. 
Current State of EHR and RCM
Today, the EHR market has evolved significantly. According to Allied Market Research, the market for electronic health records was estimated to be worth $30,550.3 million in 2020. It is anticipated to grow to $63,848.6 million by 2030, with a 7.7% CAGR from 2021 to 2030.  
The last couple of years has seen many changes in the healthcare landscape. From COVID-19 to the shift to value-based reimbursements, these changes have impacted the adoption of digital health technologies. As Hadi Chaudhry says, the COVID-19 pandemic has accelerated the adoption of these technologies as providers seek ways to deliver care safely and efficiently. During the pandemic, EHRs have been invaluable in managing patient data, tracking the spread of the virus, and increasing the demand for tele visits.  
In addition to the pandemic, the recent shift to a value-based care delivery model has posed challenges in medical billing and coding. Thanks to efficient RCM systems, providers could actively code for the care provided, maximize reimbursements, and improve claim processing. HIPAA-compliant RCM technologies help providers meet regulatory requirements, including HIPAA and Meaningful Use, and ensure they are reimbursed accurately and promptly.  
CareCloud's tech-enabled RCM solutions are efficient regarding the scrubbing techniques involved, which have been constantly improved over the last two decades. These solutions typically incorporate advanced rule-based scrubbing engines, which use millions of rules to scrub, clean, and optimize claims for quick and efficient processing by insurance companies.  
Modern solutions aim to incorporate EHR and practice management solutions into the overall RCM solution, allowing for the consolidation of patient data, medical histories, and insurance information in one place. This helps avoid the hassle of shifting from provider to provider for different systems. As Hadi Chaudhry notes, "That's where we have one of the competitive advantages because we have our whole suite of product, which is an EHR practice management, patient engagement solutions and the like, and then we have the revenue cycle management or the tech-enabled revenue cycle management layer, which sits on top of it. In addition to that, we have been providing the vendor or the platform-agnostic revenue cycle management services."  
As healthcare providers strive to adjust to the latest reimbursement models and the constant changes in the healthcare landscape, RCM and EHR have become important tools to ensure success. 
Future of these technologies
A. Hadi Chaudhry sees even greater potential for EHR and RCM. He believes these technologies will continue evolving into more integrated, intelligent, patient-centered solutions.  
The emergence of AI and blockchain can potentially transform how healthcare providers manage patient data and revenue cycles. Artificial intelligence and Machine learning will create even more robust systems that will have the power to analyze data to help providers make real-time, data-driven decisions. Similarly, RCM will continue to evolve, assisting providers in navigating increasingly complex reimbursement models and ensuring financial sustainability.  
AI can be crucial in managing healthcare systems by optimizing resource allocation, reducing costs, and improving patient outcomes. AI-powered chatbots and virtual assistants can provide patients 24/7 support, answer their questions, and guide them through the healthcare system.  
A. Hadi says in his podcast, "The ultimate goal of EHR and RCM is to enable the delivery of high-quality care to patients in an efficient, effective, and personalized way." 
He also notes that one of the reasons CareCloud is because of its versatility and openness to integrate the newest technologies into its systems.   
Conclusion
EHR and RCM have transformed how providers deliver care, improving patient outcomes, increasing reimbursements, and improving workflows. While the adoption of these technologies has not been without its challenges, there is no denying that EHR and RCM are here to stay. They are becoming increasingly vital in the healthcare industry, and providers who embrace these technologies will be well-positioned for success. To learn more about how you can, too, listen to this episode of the podcast.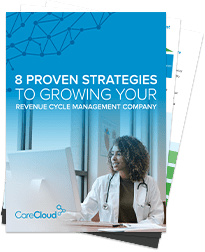 e-book:
8 Proven Strategies for Growing your Revenue Cycle Management Company
Download Now