Telehealth services will probably get a more prominent seat at the healthcare table in the upcoming years. This advancement will result from necessity rather than just convenience for patients and healthcare professionals. The demand for alternate accessible care options will increase due to a projected physician shortfall of 42,600 to 121,300 in the United States by 2030 and an aging population, 20% of whom will be 65 or older in 2030.    
Today, many people are familiar with the terms telehealth and telemedicine. More patients than ever are accepting virtual treatment as a new, acceptable way to see a provider because of global telehealth services adoption by insurance companies and significant direct-consumer care telemedicine providers. 
However, some patients still require additional education. Perhaps they must be aware of the new wave of online, connected care approaches. They may have heard about telehealth but aren't sure how to get started. Perhaps they require clarification on the precise telemedicine services your practice is now providing. 
If you're starting with the "virtual care" side of your practice, you should know a few things about how to talk to patients about the telemedicine services you'll be offering. You want to get them excited about the benefits and capabilities of telehealth, not just educate them about it! 
Here are the seven most crucial points to remember as you publicize your exciting new telehealth program. 
1)
Highlight the Advantages for Patients
It's the most important thing to remember, which is why we placed this point first. Always keep in mind how telehealth will benefit your patients. Consider it from the patient's viewpoint. Suppose you are now providing same-day virtual appointments for urgent issues. Patients can receive prompt care, skip traveling to your office, and see you rather than winding up at an expensive, uncharted urgent care facility. 
Always keep the patient in mind, whether you're talking to patients about your telehealth solution or writing a description for your practice website. 
2)
Distribute a Telehealth Brochure or Cheatsheet
It's always a good idea to have something meaningful to hand out to patients interested in your telehealth program. Whether it's a professionally designed brochure or a simple one-sheet print-out with basic information, it can serve as: 
A starting point for a conversation about virtual care.

The patient's "reference guide" during their initial telehealth appointment.

Or simply a simple reminder that virtual care is now an option.

 
3)
Avoid Medical Jargon
Avoid using medical jargon or terms you believe they will not understand when discussing telehealth with your patients. This may even imply avoiding the words "telehealth" and "telemedicine," depending on your patient population. As an alternative, you might use "virtual care," "online appointments," or "video chat with your provider." 
4)
Provide an Opportunity for the Patient to Ask Questions
Always encourage communication with your patients when you introduce your telehealth program. This can entail bringing up the subject in person after their appointment, as you hand them a pamphlet about it. Ask me about scheduling virtual appointments; staff members could wear buttons, or you could post a sign with the same message at the front desk. Include "Have questions about how online care works? " Whenever you send out letters, emails, or flyers, call this number right away. 
These strategies encourage patients to actively inquire about the program, voice any concerns or reservations and have those promptly addressed. They are more likely to feel at ease trying new telehealth options when they can discuss them, particularly with their dependable provider. 
5)
Start a Conversation in the Office
It's okay to wait for patients to inquire about telehealth. Additionally, you ought to initiate conversations. After patient visits, mention virtual appointments briefly as you hand the patient some additional materials. Think about holding a "telehealth open-house" at your clinic where you perform a virtual demonstration visit for any patients interested in seeing how it works. Staff members could also bring up virtual visits when calling to confirm patient appointments. 
6)
Demonstrate to Patients How it Works
Most people find that once they visualize the process and know what to anticipate, they are immediately more at ease with something new. Telehealth is no different. Patients are more likely to try telehealth visits with you if they can picture how it will go. 
Keep this in mind as you raise awareness about your virtual care program. Include a brief, step-by-step explanation of how the visit will proceed from the patient's perspective in your program-related brochures, websites, and other materials. You might say, for instance: 
Step 1 – Visit CareCloud.com/practicename and create your CareCloud account. 
Step 2 – Complete the enrollment questions (medical history). 
Step 3 – Make a virtual appointment with your provider. 
Step 4 – Log in to your CareCloud account at the time of your scheduled appointment. 
Step 5 – Share your concerns with your provider via video chat. 
Step 6 – Pick up your prescription at your preferred pharmacy and follow any additional instructions from your provider. 
Listing out the steps (including a few icons or pictures, if possible!) will help clear up any confusion and set patients' expectations about scheduling a virtual visit. 
7)
Inform Patients of the Tools they Require
Most patients likely already have the necessary tools to conduct a telehealth visit. But some patients might believe they don't and need to buy more.  
Be specific about the tools they require. The list may differ depending on the telehealth software or app you're using, but the essentials are: 
PC, smartphone, and tablet (If the app is limited to a specific set of devices, you might want to list them out)

 

Microphone (if not included in the smartphone  or PC )

 

Webcam (If not included in the smartphone or PC )

 
Bottom Line:
This guide demonstrated how you should educate your patients about telehealth adoption. Putting yourself in their shoes is one secret to educating your patients about telehealth. Analyze any materials or descriptions you write from your patients' perspectives as you market your new telehealth program. If you do this, you will almost certainly have your patients trying virtual care in no time.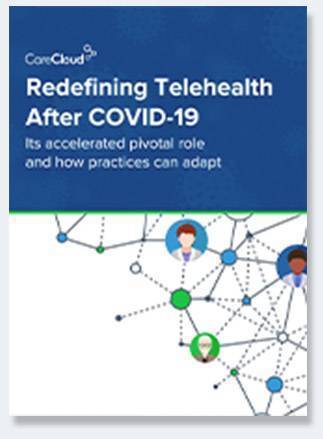 Download your free copy of:
Telehealth Redefined: How Practices Can Thrive in a Post-COVID Standard of Care
Download Now!