Although CMS recently announced its intention to extend deadlines for both Meaningful Use Stages 2 and 3, industry analysts expect the number of practices opting out of the EHR program to continue rising. It seems the financial burden of MU attestation is too much for physicians to carry. 
Because the penalty for not meeting Stage 2's stringent requirements is minimal in comparison to the initial investment required for successful attestation, many physicians are choosing to not move forward into the next phase of the program. Not to mention, the bulk of MU's incentive payments occur during Stage 1 – a goal many practices have already accomplished. 
Abstaining from Meaningful Use may save practices money in the short run, but not realizing your electronic health record's full potential puts physicians at risk of missing out on substantial gains down the road. 
ROI of EHR
One of the key benefits of an EHR is that it allows your practice to go paperless, helping your staff cut down on the amount of time it takes to rifle through patient records and other documentation. Transitioning to a paperless practice can save thousands a year in office supplies, transcription costs and file storage space. 
Clinical documentation is another key element of EHRs that lead to increased revenue. Because government insurance providers like Medicare require extensive documentation to dole out their reimbursements, many doctors only bill for services with written evidence. Unfortunately, this has been shown to eliminate up to 15% of legitimate reimbursements every year.
Oftentimes, paper claims are also "downcoded" to less expensive procedures because the payer considers the claim unnecessary or unsupported. This usually happens due to a lack of documentation. Using an EHR gives doctors the added value of documenting every aspect of a patient visit, and therefore increases the amount of claim revenue they're eligible for.
Clinical EHR Benefits
EHRs can also boost profitability simply by saving physicians time during each clinical encounter. This allows them to see more patients a day. Two of the many common EHR features that improve physician efficiency include:

Pre-populated templates that let you document common patient complaints more quickly than writing everything by hand
ePrescribing functionality that allows physicians to rapidly build care plans in just minutes
Although the time saved on a per-visit basis may be relatively small, it adds up. For instance, if the time spent with each patient drops from 20 minutes to 18, figures show that you'll be able to treat at least two more patients each day.
Even if this only brings in an extra $100 per patient, revenue per year could potentially increase by $50,000. Likewise, reducing your staff's workload can dramatically cut down on business expenses and allow you to focus more on revenue-generating activities.
As you can see, the benefits of an EHR far outweigh the initial income drawbacks of training and implementation. And while the next two phases of Meaningful Use incentives may not seem too appealing, EHRs inevitably contribute to increased practice revenue through other means.
If you'd like more information on how EHRs can help improve your practice's value, download our free "ROI of EHR" whitepaper today.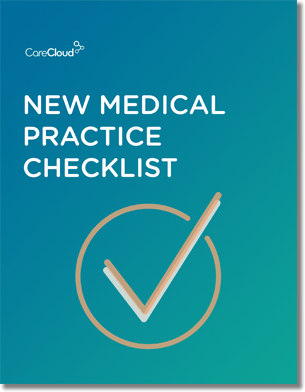 Do you know what you need when setting up a new medical practice?
Get our New Medical Practice Checklist
Download Now!