It appears that physicians, practice managers and medical billers across the country may get the ICD-10 postponement they've been asking for.
Marilyn Tavenner, the Acting Administrator of the Centers for Medicare and Medicaid Services (CMS), reportedly told journalists today that the CMS will "re-examine the timeframe" of the planned 2013 conversion to the ICD-10 code standard.
Tavenner did not say how long the CMS might be willing to delay the deadline, but her mere acknowledgment that providers may get some more breathing room made major news.
Tavenner made her statement at the American Medical Association (AMA) Advocacy Conference in Washington. A DC-based reporter from MedPage Today, Emily Walker, tweeted that when Tavenner told conference attendees she would "reexamine the pace at which we implement ICD-10," doctors in her audience applauded – which is not surprising.
The ICD-10 conversion has been a point of contention across the healthcare industry, and the AMA has positioned itself as the new code set's biggest nemesis. The organization has been urging the CMS and other authorities to stop or delay the changeover – with an emphasis on "stop" – since late 2011.
In November, AMA members voted to "work vigorously" against the federally mandated conversion. AMA President Peter Carmel went so far as to say that "ICD-10 will create significant burdens on the practice of medicine with no direct benefit to individual patients' care."
Meanwhile, other influencing bodies in the healthcare industry, such as the American Health Information Management Association (AHIMA), have argued in favor of moving forward with ICD-10.
AHIMA CEO Lynne Thomas Gordon has stated that "there are countless benefits that will come from the use of a 21st-century classification system." Another leader in her organization stressed how today's ICD-9 coding system is not specific enough, saying it causes issues in the processing of claims.
But the AMA has remained staunchly opposed to ICD-10, and not been quiet about it. In January, AMA leaders even took their ICD-10 issues federal.
In a letter, Dr. James Madar, executive vice president and CEO of the AMA, told House Speaker John Boehner that "The timing of the ICD-10 transition… could not be worse as many physicians are currently spending significant time and resources implementing electronic health records (EHRs) into their practices." The AMA sent a similar letter to Health and Human Services (HHS) Secretary Kathleen Sebelius just weeks later.
After months of lobbying, it seems their message got through. Tavenner's big ICD-10 announcement shows that the CMS has taken the AMA's concerns seriously.
"There's concern that folks cannot get their work done around meaningful use, their work around ICD-10 implementation and be ready for exchanges," she said today. "So we're trying to listen to that and be responsive."
If it were to go through as planned, industry experts predict that the ICD-10 conversion would place a heavy administrative and financial burden on healthcare organizations, especially those who are underprepared for the staff training it will require or are currently relying on outdated software that will need heavy upgrades to comply with the new coding standard.
CareCloud users will have little to worry about in the way of software upgrades since the system operates on a flexible cloud-based platform that can easily adapt to the ICD-10 transition.
Healthcare is an industry resistant to change, but it seems unlikely that the CMS will disregard ICD-10 altogether and allow providers to use ICD-9 indefinitely. The real issue is whether the administrative burden of ICD-10 will be substantiated by its potential benefits in better patient care and easier claims processing.
Whether it happens in October of 2013 or on a more extended timeline, ICD-10 isn't going away.
Do you think the changeover will be worth the hassle? What do you think would constitute a reasonable ICD-10 conversion date?
Share your thoughts on the ICD-10 transition and Marilyn Tavenner's announcement in the comments below.
---
The material and information contained on this website is for general information purposes only. You should not solely rely upon the material or information on the website as a basis for making any business, legal, medical, or any other decisions. While we endeavor to keep all information up-to-date and correct, all information in this site is provided "as is," and CareCloud Corporation and MTBC Inc. make no representations or warranties of any kind, express or implied, about the completeness, accuracy, reliability, suitability, or availability with respect to the information contained on the website for any purpose. Any reliance you place on such material is therefore strictly at your own risk.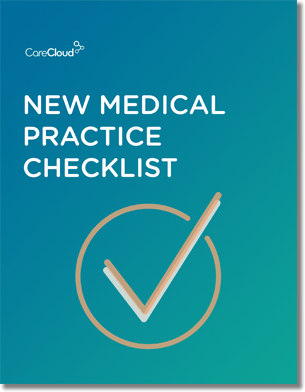 Do you know what you need when setting up a new medical practice?
Get our New Medical Practice Checklist
Download Now!