The State of Digital Patient Access Report quotes, "Digital access is critical for patient acquisition and retention as demand for online self-service continues to rise. However, analyzing the top 20 US News and World Report-ranked health systems' websites reveals a significant opportunity to optimize the care search and scheduling experience." 
Leveraging the robotic process automation system in healthcare practices improves patient experience and patient collections.  
This article enlightens how you can improve patient collection via automated revenue cycle management processes.  
WHY IS AUTOMATION THE KEY TO SUCCESS?
The healthcare industry is advancing to cater to remote healthcare progression to provide better patient care. The pandemic has brought a high dire of healthcare workers, leaving a thirst to automate processes and de-burden the overwhelmed healthcare providers.  
"The United States will face a shortage of between 54,100 and 139,000 physicians by 2033." 
Association of American Medical Colleges (AAMC)
The AAMC study indicates that the recent pandemic has created a shortage of all healthcare workers, including about 28,700 surgical specialists and 41,900 radiologists, pathologists, and neurologists.  
Covid-19 brought about a shortage of primary care doctors. With telehealth and remote patient monitoring, many older and senior doctors faced difficulties delivering digital care, leading to early retirements and healthcare workforce load.  
This growing caregiver needs raise concerns for physician burnout, eventually leading to: 
Delayed Care Delivery

Increased Errors

Missed Red Flags

Overlooked Disease Progression
Such leading gaps in care can be filled by increasing the number of healthcare workers in every facility and decreasing the burden from existing ones. Automation of practices is the way to optimize care while generating sufficient funds for physicians and private care centers.  
WAYS TO BOOST PATIENT COLLECTION
Introduced in the 1960s, many practices still operate on paper-based filling systems. However, COVID-19 optimized these color-coded patient record cards with digital record keeping.  
First came the pandemic; next, electronic health record systems, telehealth, and remote patient monitoring forced Medicare to alternate the codes for distanced healthcare services. All this magnified the need to automate procedures.  
Here is why you need to boost your practice's patient collections through automated systems: 
Increased Return on Investment (ROI)

 

Full Transparency

 

Data Privacy 

 

Increased Physical Space 

 

High Density Patient Care / Better Patient Experience  

 

Early Disease Detection

Accurate Diagnostics

 

Lesser Denials and Reimbursement Issues 

 
Reduced Denial & Reimbursement Issues
Due to the pandemic, most healthcare practices that have applied software support to their prior manual systems still rely on individual software control. One major issue here is interoperability. Nearly a quarter of healthcare facilities use stand-alone RCMs. These are either not easily integrated with other electronic health records or rely on manual verification.   
CareCloud's prior verification feature ensures all necessary reimbursement approvals for emergency procedures are taken preceding service. This will support your healthcare practice with updated payment flow charts, decreasing error claims.  
High-Density Patient Care 
Greater patient satisfaction means higher patient retention for your practice.  
Nearly half of patient care is either virtual (telehealth, e-prescription) or remote (remote patient monitoring, chronic care monitoring), solely depending on follow-ups. Automating these services can significantly benefit the service providers through: 
Lowering Overwhelming Caregiver's Burden

 

Auto-manage Repetitive Tasks

Reduced Staff Burnout Resulting in Better Care for Individual Patients 

 

High-density Patient Care is Improved

No Red Flags are Missed in Critical Patients
If general, day-in-day-out tasks are charged by chatbots, human resources can be efficiently utilized for patient care.  
Full Patient Transparency
A proactive staff approach will save money by reducing financially choked patients.  
When all details are easily accessible and displayed in front of the patient during service, patients will have minimal bill-associated anger. Hence, no delays in in-hand payments. 
CareCloud's patient portal showcases all due payments and deductible options ensuring seamless billing. This confirms full patient transparency with higher levels of payment success. 
An automated system leverages time to provide an in-depth screening option to patients. Patients control their needs and are much more satisfied.  
Early Disease Detection
When practices are RCM integrated, all claims and payables are controlled automatically. CareCloud's care managers and the practice's healthcare staff can collectively detect alarming signs early on, thereby reducing disease progression and overall patient experience 
Diagnosis Accuracy
Automation delivers the targeted therapy as set by the caregiver. This avoids wasting manual healthcare labor on minor tasks which can be easily automated, such as medicine dissension, refill collection, follow-up calls, reminders, and basic system troubleshooting tasks.  
Undoubtedly, machine processing is error-free and can vastly benefit healthcare givers in an accurate care delivery process.  
Reduced Cost/Increased ROI
Automation in healthcare facilities streamlines workflow resulting in machines replacing human actions, therefore: 
Reducing Human Errors

 

No more Extra Costing due to Human Operational Inefficiencies

 

Less Unexpected Costing Functionalities

 
All these result in higher ROI (return on investment) for the practice. Also, all the money saved can be utilized in other optimal healthcare processes, such as: 
Mandatory Specialist Hiring

 

Care Delivery Machinery

Interoperability Systems 

 

Conversion to a Larger Facility
Data Privacy 
A study from The American Journal of Managed Care states that 65% of security breaches occur from paper-based records. Moreover, patients address data security as the primary concern in digital health delivery. The revenue cycle management processes of CareCloud deliver HIPPA-compliant and secured technology. This automation ensures patient data security while streamlining data for research and analytical purposes. 
Reutilization of Physical Facility Space
With unwanted piles of paperwork out of the way, it creates space for more extensive necessities for healthcare providers. Cloud data storage allows a more specific recollection of patient data with increased physical space.  
This leads to cost-cutting from external storage and filling systems. Hence, increasing the provider's facility profit. 
CARECLOUD CONCIERGE 
CareCloud Concierge outperforms revenue cycle management to enhance the profitability of your practice.  
Consultative approach with a flexible system to customize according to your practice. 

 

Adaptive technology with electronic health records (EHR) and patient monitoring systems.

 

RCM expert's backup, qualified in billing, remittance, and payment optimization. 

 

Claim submission and A/R follow-ups are handled by CareCloud's back-office staff.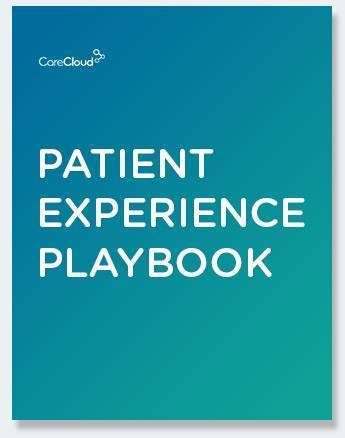 Download the Patient Experience Playbook
Insights into every aspect of the patient journey
Download Now!