Amidst all the buzz about the new apple Watch, Apple also announced its new ResearchKit — which holds the potential to affect many people's lives by revolutionizing medical research.
"Perhaps the most profound change and positive impact that iPhone will make is on our health," Apple CEO Tim Cook said during a March 9, 2015 unveiling of new products and enhancements.
Apple worked with a dozen leading medical research institutions to develop ResearchKit. This new software framework could significantly change the way medical researchers find study participants and gather data.
During development of their health information platform, apple HealthKit, "We came across an even broader impact that iPhone could make – and that is on medical research," Cook said.
Apple designed ResearchKit to:
* Simplify and expand recruiting. Hundreds of millions of iPhone users worldwide can now choose to participate in medical studies through a simple signup process on their device.
* Get more relevant findings. Historically, a small number of participants limited the relevance of many studies. For example, research with only 50 to 100 people "limits our understanding of diseases," apple's Senior VP of Operations, Jeff Williams, said.
* Collect objective data. Device- and app-driven data could be more accurate than ratings based on a researcher's judgment – such as deciding how well someone with Parkinson's disease walks on a scale of 0 to 4.
* Track information continuously. Ongoing collection of patient data through medical apps on the apple watch or iPhone could increase precision, replacing infrequent "snapshots" of information historically gathered during study visits.
* Give patients better feedback. The five ResearchKit apps available immediately— along with those to come — provide participants with real-time information right on their phones. "When you participate in a study, you often don't hear back until the end of the study, if at all," Williams said. The goal is "empowering [patients] to understand and possibly influence their health long before a research study is concluded."
"One of the things that ResearchKit will do is put people at the center of research — giving people the insight and tools to lead better lives," said Mike O'Reilly, M.D., Apple's VP of Medical Technologies.
Apple worked with Massachusetts General Hospital, Dana-Farber Cancer Center, Weill Cornell Medical College and others to build these five initial medical apps:
* GlucoSuccess to track behaviors and glucose levels for people with diabetes;
* MyHeart Counts to track heart health and hopefully reduce cardiovascular disease;
* Asthma Health to help people manage their asthma;
* Share the Journey to better understand and treat post-treatment symptoms in breast cancer survivors; and
* mPower to help assess and monitor progression in Parkinson's disease.
"Now anyone with an iPhone can contribute to Parkinson's research," Williams said. "The app turns the iPhone into a diagnostic tool." mPower can evaluate hand tremors using a finger-tapping test on the screen. The app also asks people to say 'ahhhh' for as long as possible while the iPhone processor detects minute vocal cord variations. These variations can indicate the level of Parkinson's disease. Also, the app can precisely measure gait using the iPhone accelerometer and gyroscope while a person takes 20 steps forward and back with the phone in their pocket. He added, "You can do that anywhere, not just in the doctor's office,"
Even though these apps pull data from an Apple Watch, iPhone and other devices, "we want anybody, anywhere regardless of the platform they're on to contribute, so we're going to make this open source," Williams said.
Williams wrapped up the ResearchKit announcement to a round of applause when he addressed privacy. "There is nothing more sensitive than your medical data. You decide what apps … and what research you participate in," he emphasized. You decide how your data will be shared, and Apple will not see your data."
What do you think of Apple's surprising move to expand the world of medical research through patient-centered data collection? Leave your comment below.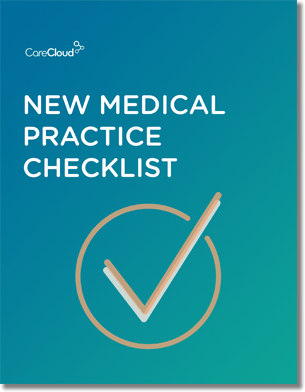 Do you know what you need when setting up a new medical practice?
Get our New Medical Practice Checklist
Download Now!