Over the last few years we've heard a lot about the advent of electronic health records (EHRs) and rightly so, considering what a central focus point they've been from a governmental funding standing.
Now, as we begin to talk more about making EHRs user-friendly and smart and we start thinking about ways to pursue intelligent data exchange and interoperability, it's time to figure how we can simplify the implementation and utilization of EHRs.
The question is, what are doctors supposed to do in the midst of this change to ensure they're providing first-rate care for patients while also taking steps to re-imagine what once was a paper-based system (with little-to-no data insight and real-time analytics)?
What I would like to challenge you to think about is how physicians can adopt enabling technology in order to make the leap to a smarter approach to capturing, understanding and using clinical data for patient and business good.
Capturing the patient's complex story
This is a fascinating time for the medical community as many consumer-oriented technologies – particularly mobile devices – are now playing a role in the clinical world.  While we've seen the adoption of smartphones, tablets and iPads increase over the last few years, we've also seen the level of frustration skyrocket for healthcare professionals (HCPs) who are irked by the inefficiencies associated with trying to leverage these devices as a means to capture patient information in the rigid structured fashion required to support detailed regulatory reporting requirements.
Still, there are other solutions, like speech recognition, available to streamline capturing the patient story via mobile devices.  In the end, what's really needed is a balance between the structure to serve reporting needs and the "substructure" to express the essence of what's happening with each individual patient.
Currently, many EHR vendors have gotten wind of the voice-powered trend and have begun to mobilize and speech-enable their solutions in order to adhere to the increasing needs of the mobile medical community.  Nonetheless, it's important to note that not all HCPs prefer mobile technologies.
For those who prefer a desktop, for example, speech recognition is still a useful tool; in most instances, there are time-related savings associated with speaking vs. typing and for many physicians, the level of patient engagement increases and improves when they capture a patient note via voice.  All in all, whether your workflow is mobile or more traditionally desk-bound, we're seeing a broad-based movement toward speech-enabled technologies within the health IT community.
Making sense of a sea of clinical information
Correct me if I'm wrong, but doesn't it seem counter-intuitive to make a concerted effort to capture a complete patient note containing both structured and unstructured information if you don't plan to use or mine any of that data moving forward?
Quite honestly, the potential to use clinical data for complex insight into inefficiencies in business processes and/or big picture insight into large population health trends is not something we – as part of the healthcare community – can pass up.
Today, clinical language understanding (CLU) technologies (a clinical-specific form of natural language processing) are available and already enabling HCPs to process, interpret and then leverage what is now meaningful data (knowledge) into practice.
In addition to the added patient and business insight afforded by the adoption of clinical language understanding, these technologies are making regulatory reform more realistic.  When it comes to the transition to ICD-10 (albeit a delayed transition), these same technologies engage the physician as a gentle assistant of sorts by prompting users to provide complete documentation if sufficient detail is not offered up at the time of clinician documentation.
Moreover, considering the widespread frustration surrounding the cost of care, these same CLU technologies enable physicians to concurrently address concerns while actually treating patients.  In other words, CLU technologies can help enable decision-making at the point-of-care, identifying patients in need of intervention and empowering care teams to make a difference – far better than retrospective review that may not catch potential issues because of a lack of real-time information and insight.
Today, the healthcare industry is facing the perfect storm: policy mandates with related timelines for implementation and a pressing demand to find a way to unlock the wealth of data that exists in clinical documentation.  These positive pressures combined with the rapid pace of adoption of a more digital approach to care – for patients and providers alike – has created an opportunity for us all to rethink how to approach patient care and, in turn, capture and utilize clinical data.
What we're seeing today are initial advancements in the adoption of smart technologies that capture and understand information gathered as a byproduct of the natural workflow physicians use to document patient care – not by asking the physician to change their workflow to support the data capture.  What we hope to see tomorrow is a patient-centric, more efficient data-driven healthcare system.
[do action="separators"/]
Karen Farrell, M.Ed. is the Director of Healthcare Solutions Marketing at Nuance Healthcare.  Ms. Farrell has 25 years of healthcare informatics experience, providing direction and leading strategic planning and marketing initiatives with an emphasis on systems design and collaboration.  Prior to joining Nuance Healthcare, she was a marketing director at Medical Information Technology, Inc. (MEDITECH), where she was responsible for building and managing the company's business development and customer relationship programs including advisory committees, executive councils and educational forums.  Ms. Farrell holds a Master of Education degree with a concentration in Organizational Management from Endicott College and a Bachelor of Science in Medical Technology from the University of New Hampshire.
---
The material and information contained on this website is for general information purposes only. You should not solely rely upon the material or information on the website as a basis for making any business, legal, medical, or any other decisions. While we endeavor to keep all information up-to-date and correct, all information in this site is provided "as is," and CareCloud Corporation and MTBC Inc. make no representations or warranties of any kind, express or implied, about the completeness, accuracy, reliability, suitability, or availability with respect to the information contained on the website for any purpose. Any reliance you place on such material is therefore strictly at your own risk.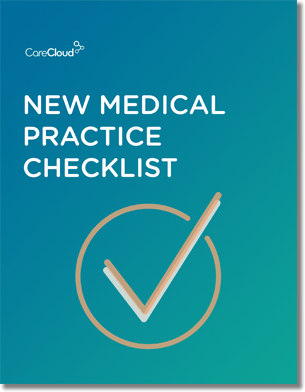 Do you know what you need when setting up a new medical practice?
Get our New Medical Practice Checklist
Download Now!