Stage 2 Meaningful Use and ICD-10 are right around the corner. HHS is cracking down on all sorts of healthcare fraudsters. And the New Year is so close you already have the champagne on ice.
Here is the third and final installment of our "52 Things Healthcare Learned in 2013" series to keep you prepped for the coming year.
HHS Probes "Incident-To" Fraudsters
A 2009 review found that 21% of "incident-to" services were actually being performed by unqualified non-physicians or didn't fall under the guidelines outlined by OIG. The Department of Health and Human Services (HHS) has responded by announcing plans to monitor Medicare covered services performed by non-physician employees more closely.
HIPAA Omnibus is Here
In 2013, HHS released the 563-page HIPAA Omnibus final rule, which reinforces providers' responsibility to keep patient data safe and secure. The federal rule, the first major update to a 15-year-old law, includes new regulations that extend liability for data breaches from providers to their EHR vendors.
A Micro-What?
The micropractice model of care involves a single physician with only one staff member working in a proportionately sized office space. While not every doctor can adopt such a drastic strategy, all can learn from the model's emphasis on cutting costs and streamlining operations. 
Patients Aren't Cooperating
Experts estimate only 50% of patients take their medications as directed. Patients cite the laborious process of getting prescriptions filled as the main obstacle preventing them from following established prescription plans. However, ePrescribing whittles the process down to one simple step.
eVisit Use Grows
During eVisits, patients compose a free-form message and send it to their physician through a protected web site or patient portal. They're ideal for patients who live far away from clinics, care for children or don't want to spend time traveling to a traditional office for diagnosis of minor symptoms.
Meaningful Use-Certified EHRs Do It Better
Findings from The National Ambulatory Medical Care Survey suggest that most physicians have experienced various clinical, financial and timesaving benefits from using EHR systems that meet Meaningful Use (MU) criteria. In fact, 75% of physicians said they receive lab results faster with an EHR that meets MU criteria, compared to 61% of physicians in the non-MU EHR group.
Hospital Fees Under Scrutiny
In a major policy shift, federal regulators are seeking tighter restrictions on the facility fees hospitals charge Medicare for ER visits. The Centers for Medicare and Medicaid Services (CMS) is recommending a new flat rate of $212.90 for all emergency room visits across the board.
Talking Insurance with Patients
Using tools like the American College of Physicians' resource center helps providers discuss HIX insurance enrollment with patients — a discussion industry experts anticipate happening more often now that the Affordable Care Act (ACA) has taken hold. 
Groups Without Walls Emerge
The Group Without Walls provider model involves groups of small practices, typically in the same specialty, trading under a common tax identification number while allowing each member to maintain a significant measure of independence. This allows small practices to derive significant income from supplementary services like lab work, imaging and therapy. 
Cloud-based Health IT Solutions Gain Steam
According to a recent Black Book Rankings report, 17% of physician practices are considering switching EHR vendors by January 2014. Because of cost savings and scalability, a growing number of physicians are looking towards cloud-based health IT solutions using the Software-as-a-Service (SaaS) payment model to handle their charting needs.
EHRs & Patient Portals Unite
With Meaningful Use Stage 2 and its patient engagement requirements drawing near, patient portals are garnering a fair amount of attention from healthcare pundits. Integrated EHR-patient portal solutions offer numerous benefits for practices including cost savings, easier implementation and faster training.
Beware the Comfort of Copy/Pasting
According to a recent AHIMA report, 79-90% of physicians use the copy/paste function in their EHRs, and somewhere between 20-78% of physician notes are copied text. With this many physicians relying on the tactic, it's not surprising to see a growing number of errors made within EHR systems.
Why Is CCT So Complicated?
The ACA requires health care providers, who treat Medicare and Medicaid patients, to adopt a health care compliance training plan as protection against fraud. The hardest part of creating a CCT plan, though, is identifying the right information to teach. In response, CMS has published several resources that will help providers meet CCT criteria. 
ICD-10 Pilot Program Garners Poor Results
Speaking before hundreds of attendees at this year's HIMSS conference, Holt Anderson, Executive Director at the North Carolina Healthcare Information and Communications Alliance, said providers participating in the ICD-10 pilot program reported a 50% decrease in worker productivity and a higher rate of errors when submitting claims with the new coding set. 
It's Budgeting Time
With the year coming to a close, it's time to start planning for 2014, and a well thought out budget serves as a yearlong guide to increasing profits. By following these steps, you'll be able to easily create a budget that can lead to greater profitability in the coming year. 
Is mHealth For Everyone?
Manhattan Research's 2013 Cybercitizen Health U.S. study revealed that patients suffering from cystic fibrosis, growth hormone deficiencies and acne were among the most likely to use smartphones to find health information, while easily trackable diseases like diabetes and sleep disorders didn't make the list.
ICD-10 Is Your Friend
Adjusting from ICD-9 to ICD-10 coding is sure to cause some slow downs at the practice level. But there are several reasons why ICD-10 doesn't have to be the villain it's often made out to be. Higher reimbursements, better data and more detailed coding are all potential positives of the new coding set.
ONC Tackles Problematic MU Measures
During an open forum at this year's American Medical Informatics Association (AMIA) symposium, the ONC, EHR vendors and individual providers met to discuss the most troublesome Meaningful Use core objectives. Properly documenting lab results, true system interoperability and patient portal use requirements topped the list of issues.
Do you want more from PYP? Sign up for our email list, and we'll deliver informative articles to your inbox year-round!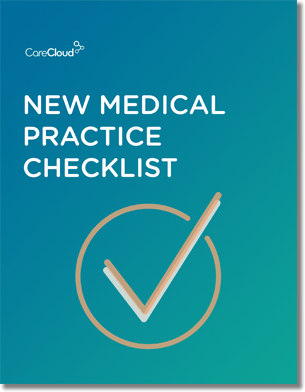 Do you know what you need when setting up a new medical practice?
Get our New Medical Practice Checklist
Download Now!