We're sure you couldn't get enough of part 1, so we're proud to present the second installment of our "52 Things Healthcare Learned in 2013" series.
The following 17 factoids cover a wide variety of topics, from the regulating of mHealth apps and health IT vendor red flags to patient dissatisfaction and even the promise of SEO for medical practices. Enjoy!
The FDA Recognizes Potential Impact of Mobile Health Apps
There are now more than 40,000 health and wellness apps on the market, and mobile health revenues are forecasted to climb into the billions by 2016. Their potential effects on patient health have spurred the FDA to step in and mandate certification. 
Practice Management Systems to the Rescue
Declining reimbursements (65%), rising costs (57%), the Affordable Care Act (48%), and coding and billing changes (44%) were cited as the factors most negatively affecting practice profitability. Choosing the right PM system is key to battling all four issues.
See what other enlightening facts the Practice Profitability Index (PPI) brought to light this year.
EHRs Must Be Ready for a Patient Influx
Quality EHRs are going to become increasingly important as more than 32 million currently uninsured Americans are expected to join the healthcare system in 2014. EHRs featuring patient tracking, single sign-on and appointment reminders will be particularly helpful to physicians looking to augment workflows in response to the influx. 
Patient EHR Access is a Touchy Subject
Physicians are torn when it comes to patients accessing their electronic health records. While 82% of physicians say they want patients to be active in their own care by using EHRs, only 31% believe they should have full access to their electronic health records. 
Don't Forget the RECs
The ONC has funded 62 Regional Extension Centers (RECs) with the purpose of helping providers effectively adopt and use EHRs. These RECs focus on individual and small practices, in addition to those lacking the resources needed to implement an EHR. In other words, take advantage. 
Making ePrescriptions Work for You
ePrescriptions now make up almost 45% of all prescriptions filled, and that number is only expected to grow. Yet, practices still need to take measures like avoiding batching and queuing before transmission to ensure smooth workflows. 
Physicians Can Battle Back Against Declining Reimbursements
According to the Practice Profitability Index, 65% of doctors see declining reimbursements as the top issue negatively affecting the financial success of physician practices. While the budget sequester didn't make profitability any easier, doctors who increase their patient base, outsource medical billing and maximize their tax deductions stand a better chance at remaining profitable. 
Outsourcing Billing: Getting By With a Little Help From Your Friends
According to MGMA, your practice isn't doing well if your denial rate is over 4%. And because the average claim denial can cost $25 to $30 each, doing it yourself may not be your best bet. Outsourcing, then, becomes an efficient alternative.
Sebelius Takes an Unprecedented Step
On May 8, HHS Secretary Kathleen Sebelius took a bold step by releasing a massive data filed detailing the prices more than 3,000 hospitals charge for the 100 most frequently used medical services under Medicare. Smaller practices can use the data to gain the upper hand against competing hospitals. 
Does Correlation Equal Causation?
HHS and ONC are wary of the correlation between an increase in inappropriate billings to payers and the growing popularity of EHRs. Because of this, providers have to be extra careful about cloning and upcoding. 
Changes are Coming
With the healthcare landscape shifting rapidly, 44% of physicians are looking to make operational improvements. In order, the four most popular on tap for doctors are: implementing a new EHR, replacing an existing EHR, outsourcing billing and replacing a practice management system. 
Cookbook Medicine Isn't a Hit
The term 'cookbook medicine' refers to practicing medicine by adhering to strict procedures and protocols. This highly standardized model of care is facing heavy resistance from physicians forced to use this model of care by hospital administrators. 
A Little SEO at the Office
A 2012 study by Google found that 77% of patients search for their physician online prior to booking an appointment, which means medical practice that haven't already begun thinking of optimizing their online presences for SEO should probably get to work.
Shocker: Doctors Are Bogged Down by Tedium
According to the Practice Profitability Index (PPI), the burden created by activities like coding, documentation and other similar tasks are too often falling on the shoulders of physicians. More than half (59%) of physician respondents said they sacrificed more than 20% of their time this way. Too much time at a desk means less time in the exam room. 
Health IT Vendor Red Flags
Be sure to avoid certain vendor and software traits when shopping for a new health IT solution: a. any mystery regarding cost, b. they're selling software they didn't build without admitting it, c. in-system dashboards lack customization, and d. the system lacks real-time business intelligence reporting.
You Can't Keep from Being Judged
If you aren't worried about your reputation on physician rating websites, you may be in for a surprise. A recent Vitals survey revealed 47% of people who looked up physicians online felt differently about a physician after viewing their profile on a physician review site.
Patients Aren't Requesting Encores
A Johns Hopkins study this year found that, on average, 23% of patients see three or more primary care physicians every two years, meaning they're not satisfied with some aspect of the care experience.
If you're excited for the third and final part of our series, sign up for our email list and we'll deliver it directly to your inbox!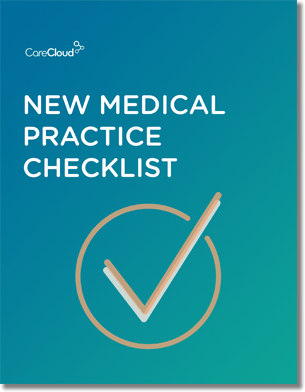 Do you know what you need when setting up a new medical practice?
Get our New Medical Practice Checklist
Download Now!